Our Self-Defense Classes In Edinboro Offer The Most Realistic Self-Defense And Personal Protection Training In All Of Erie County
Challenge your body and your mind with a cutting-edge approach to self-defnese. At Edinboro Family Martial Arts, our self-defense programs are great for beginners and experienced martial artists alike.
We offer self-defense programs of short duration (one-day, a single weekend, 6-weeks, etc.) or on a continuous basis embedded within our traditional martial arts programs.
Whether taking self-defense specific classes or enrolled in our traditional martial arts program, we prepare students with reality-based self-defense training. At appropriate times, we use "stress-reaction training" (similar to a military boot camp or police academy) that tests and pushes students beyond their self-imposed or imagined limits. Our strategies and techniques come from not only research, but also from the real world. Ultimately, our self-defense students gain the confidence to defend themselves successfully. There are few schools teaching such a comprehensive, well-researched, and effective self-defense program as Edinboro Family Martial Arts.
Just fill out the short form on your screen to get started today!
What Can You Expect From Our Self-Defense Training?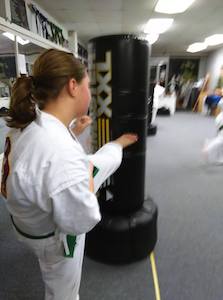 Kobudo is a traditional Self-Defense form that prepares people to defend with and against weapons of all kind. At Edinboro Family Martial Arts, our professional instructors offer hands-on training in a safe environment that can help you build a comfort level with self-defense strategies in any situation.
By focusing on the use of all five weapons found in traditional Kobudo training, we are helping people all across our community prepare their minds and bodies for anything life throws their way.
Join us in Edinboro today for:
Improved reaction times to a threat
The ability to maintain a clear mind in high-stress situations
Comfort and confidence in the face of danger
Strategies to disarm and maintain control over any opponent
And From Day One, We'll Challenge Your Body To Be Fitter Than Ever Before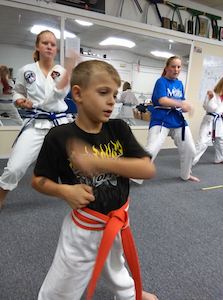 The goal of our Self-Defense program is to help you master the forms of Traditional Kobudo and stay safe in any situation. But that doesn't mean you won't also take on a great total-body workout.
At Edinboro Family Martial Arts, we are proud to offer a high-energy training environment where you can take on new challenges every week and keep your body guessing like never before.
We're helping people all across Edinboro, McLane, Cambridge Springs, and Erie County:
Burn tons of calories in every class
Take on improved cardiovascular health
Build incredible speed, strength, and agility
Walk away from each class with a great sense of accomplishment
Take The First Step Today! Join Us In Edinboro For The Best Self-Defense Classes Around!
Master the art of traditional Kobudo and have a blast in the process. Our Self-Defense Classes are giving everyone in Edinboro and beyond the chance to learn new skills and stay safe in any situation.
Just fill out the short form on your screen to get started today or to learn more about everything we have to offer at Edinboro Family Martial Arts.